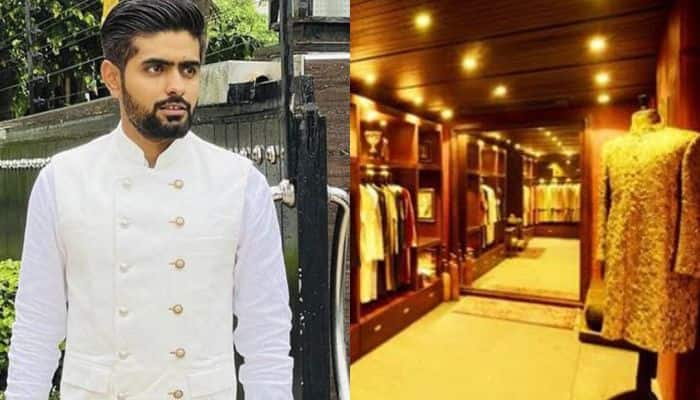 Pakistani cricket captain, Babar Azam, has found himself in the spotlight for a surprising reason ahead of a crucial match against New Zealand in the ongoing ICC Cricket World Cup 2023. According to sources close to OneCricket, Azam splurged a whopping seven lakh rupees on a designer sherwani, a traditional Indian outfit, for his upcoming wedding. As OneCricket's sources revealed, "Babar Azam's wedding is scheduled to take place at the end of this year, making the timing of his extravagant purchase all the more unexpected."
Babar Azam has purchsed 7 lakh rupees Sherwani and jewellery from India's biggest designer boutiques Sabyasachi. He is set to get married at the end of the year. (OneCricket)#CricketTwitter pic.twitter.com/qRWntr3gHu
— Himanshu Pareek (@Sports_Himanshu) November 3, 2023
Azam's Surprise Shopping Spree
This news comes as a surprise as the Pakistani team, who were the World Champions in 1992 World Cup, arrived in Kolkata just a day before their match against New Zealand. It's rare for a captain to engage in wedding shopping during such an important tournament, raising eyebrows and potential controversy within cricketing circles.

Azam's Lavish Purchases
Reportedly, Azam purchased the designer sherwani at a renowned Indian designer's boutique, Sabyasachi, known for their exquisite bridal and groom wear. As per OneCricket's sources, "With wedding preparations in full swing, Azam's relatives are also busy with arrangements. The timing of his wedding shopping, amid such a significant international tournament, has ignited debate about focus."

Babar Azam's unexpected and extravagant wedding shopping in India, as reported by OneCricket, has captured the interest of fans and critics alike. While the Pakistani cricket team's performance in the World Cup is at a critical juncture, Azam's choice to engage in lavish wedding shopping has added a unique twist to this cricketing saga. The charismatic captain's ability to balance his responsibilities as a groom-to-be and a cricket leader will be closely observed as the World Cup drama continues to unfold.