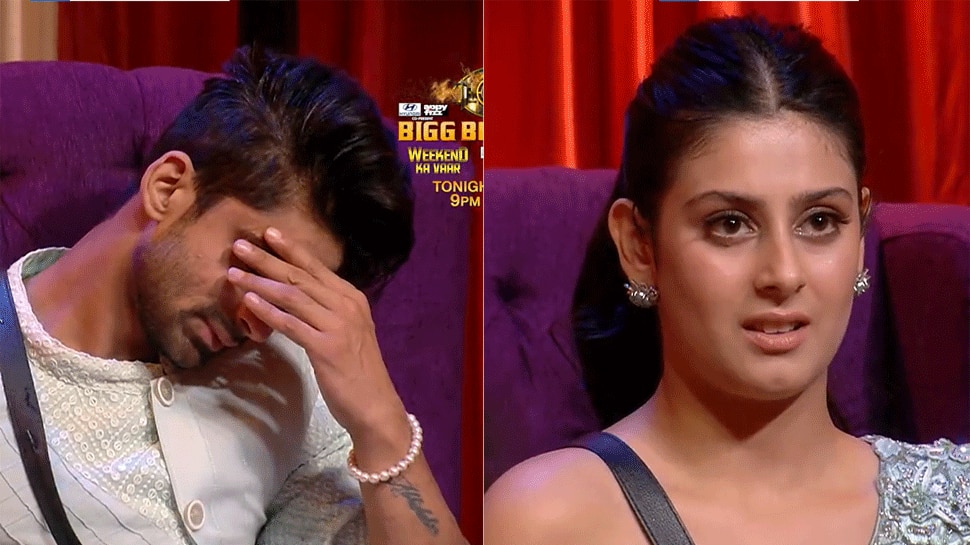 New Delhi: Day 13 in the Bigg Boss 17 house marked the second week of Salman Khan's Weekend Ka Vaar. The latest episode witnesses two wildcards entering the show. A few guests too enter the house leaving housemates elated. Abhishek, who has been vocal about his love for Isha, is seen having a breakdown. 


Arbaaz Khan and Sohail Khan to roast contestants
Salman Khan's brothers Sohail Khan and Arbaaz Khan join the superstar on the stage and announce that they are all set to roast the contestants on Sunday. The trio makes a smashing entry on a bike and has a witty humor session. They joke about Dabangg 4 and Radhe 2. Salman leaves the show to them, before taking over as the host again.


Manasvi Mamgai is the first wild card entry on the show

Manasvi Mamgai is introduced to the show as the first wild card contestant. She leaves viewers impressed with her impeccabl performance on 'Besharam' song. She leaves housemates overwhelmed with her entry. Manasvi hopes to target Munawar Faruqui and greets him first in the house.


Salman Khan asks 'Dum' people to give treatment to housemates 

The contestants of 'Dum' house are asked by the host to give the different treatments available. Arun Mashetty calls KhanZaadi dimaag kam. Sunny Arya akss Abhishek Sharma to control his tongue. Soniya Bansal asks Vicky Jain to not poke his nose into other people's matters. Sana Raees Sheikh picks Abhishek for brains. Salman warns Abhishek Sharma of a storm and advises him to control his emotions, and maintain distance from Isha. Anurag Dobhal picks Ankita Lokhande as kadvi zubaan. Manasvi calls Munawar fake. 


Mouni Roy, Karan Kundrra grace the stage 

Mouni Roy and Karan Kundrra, promote their new upcoming show on Bigg Boss 17. They assign a few tasks to housemates. Munawar is asked to pick between Ankita and Mannara Chopra in few situations. Vicky is asked to pick between Isha Malviya and KhanZaadi. After Mouni and Karan, Krushna Abhishek entered the show and leaves everyone in splits with his comic timings. 

 

Soniya Bansal evicted 
Soniya Bansal and Sana Raees Khan are in the danger zone as per the votes from the audience. Bigg Boss asks housemates to decide who should be evicted from the house based on their contribution. Housemates save Sana Raees Khan and Soniya bids adieu to everyone.

 

Vicky Jain, Ankita Lokhande fight again

Vicky Jain is seen asking his wife Ankita Lokhande to talk to him properly after she approached him for a discussion. Ankita walks out of the discussion and Vicky is seen bonding with other housemates. However, the two are later seen talking to each other. 

 

Isha Malviya, Abhishek Kumar shocked with Samarth Jurel's entry
Full Promo: Isha's ex-boyfriend cries seeing her current boyfriend in the house.

While Isha says sirf ham dost hain. Big fight betn Abhishek & Samarth #BiggBoss17pic.twitter.com/gfovjDBRVG
— #BiggBoss_Tak (@BiggBoss_Tak) October 28, 2023
Bigg Boss asks Isha and Abhishek about their relationship status. The two are then shown few of moments from the house. Bigg Boss then announces the second wild card entry – Samarth Jurel. Isha is asked to pick between Abhishek and Samarth to join her in the 'Dil' house. Isha, however, picks Abhishek. Isha asks Samarth why did he introduce himself as her boyfriend. Samarth questions her about their equation and Isha maintains that they are just friends.