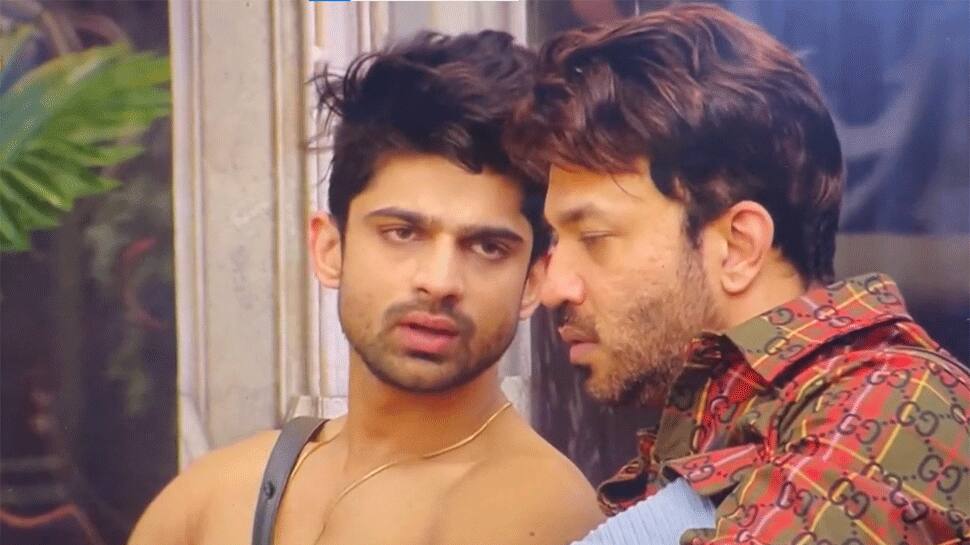 New Delhi: Samarth Jurel and Manasvi Mamgai are the first two wild card entries on Bigg Boss 17. On the Weekend Ka Vaar, Bigg Boss welcomed  Samarth Jurel stating that he has claimed himself to be Isha Malviya's boyfriend. 

Abhishek Kumar Loses His Control With Isha Malviya's Beau Entry
After Samarth Jurel's entry into the house, Abhishek Kumar breaks down. Munawar Faruqui and Ankita Lokhande try to calm him down but he gets inconsolable. Samarth makes fun of the same and Isha Malviya shows concern. She sits next to Abhishek and tries to talk to him.
The actress asks everyone to leave, assuring them that she will handle Abhishek. Manasvi calls Abhishek dramatic while Samarth calls Isha dramatic. He says that he has the same nature as Isha – changing equations with every passing day. 

Samarth Calls Isha Malviya 'Liar', Abhishek Threatens Him

Samarth calls Isha by names – liar, gadhi (donkey) for not accepting him as her boyfriend on the show. Hearing this, Abhishek charges at Samarth and threatens him with dire consequences. Both Samarth and Abhishek lose their calm. Vicky, Neil, Munawar and Sunny Arya 'Tehelka' intervene and separate them. 

Samarth then comes to Isha and claims before everyone that they have been in a relationship for almost a year now, however, Isha refuses his claims. Abhishek once again breaks into tears. Abhishek asks Isha to accept her relationship with Samarth. He even tries speaking to Samarth, but the latter refuses to listen to him.

Ankita Lokhande, Abhishek Ask Isha To Accept Her Relationship with Samarth

Samarth talks to Munawar about his relationship with Isha. He reveals Isha moved on three months after her breakup happened with Abhishek. 

Vicky and Ankita approach Isha and ask her to accept whatever she has with Samarth. Munawar too advises Isha that she has been making things difficult for Abhishek which is not right. Abhishek asks Isha to move on with Samarth. However, Isha goes numb and breaks into tears. She tries to clear things with Samarth but the latter refuses to listen to her. Samarth tells Isha that she is ashamed of him which is why she refused to accept him.

Munawar is way to sensible and understanding, the way he explain and sharing things with this three

While other housemates making fun of them 

#MunawarFaruqui #MKJW #IshaMalvia #AbhishekKumar #BBKingMunawar #BIGGBOSS17 #BB17 #MunawarIsTheBosspic.twitter.com/iAiZxIjN9D
— Bigg Boss (@Bigg_Boss_1) October 29, 2023
Abhishek Kumar Accuses Isha Of Using Men

Abhishek Kumar revealed some shocking allegations about Isha and her mother.

He says, Isha use kar rahi hain. Mujhse pehle ek koi tha. Phir mein. Then ab ye. #BiggBoss_Tak pic.twitter.com/yCyxe8Iuh2


— #BiggBoss_Tak (@BiggBoss_Tak) October 29, 2023

Arun and Tehelka bond with Samarth. They asked Samarth about their fight and Samarth says he saw everything. The three share the same room. Abhishek tells Vicky that Isha was dating someone for three months before being with him in a relationship. He added that after their breakup, she started dating Samarth Jurel. Abhishek feels that Isha uses men for her benefit.

Abhishek gives friend wala hugs to Isha and says he was worst and Samarth is best for her. #BiggBoss17 pic.twitter.com/2bUePAFvze
— #BiggBoss_Tak(@BiggBoss_Tak) October 29, 2023
Abhishek bonds with Manasvi and Munawar teases them by singing Do Dil Mil Rahe Hai. Abhishek asks him to sing the same for Isha and Samarth.
Sohail and Arbaaz are the hosts for the Sunday episode. Sohail says Salman would stay in dil ghar because bhai dil mein aate hai, samajh mein nahi. Arbaaz would stay in 'dimaag' house while Sohail would stay in dum house. They meet the contestants through TV. Sohail calls Mannara his favourite.

Sohail and Arbaaz mock Neil and say 'Everyone can only hear Bacche in his mic'. They also mock Tehelka and accuse him for not showing his real side. Abhishek gets targetted After he asks the score of the ongoing cricket World Cup 2023 match.