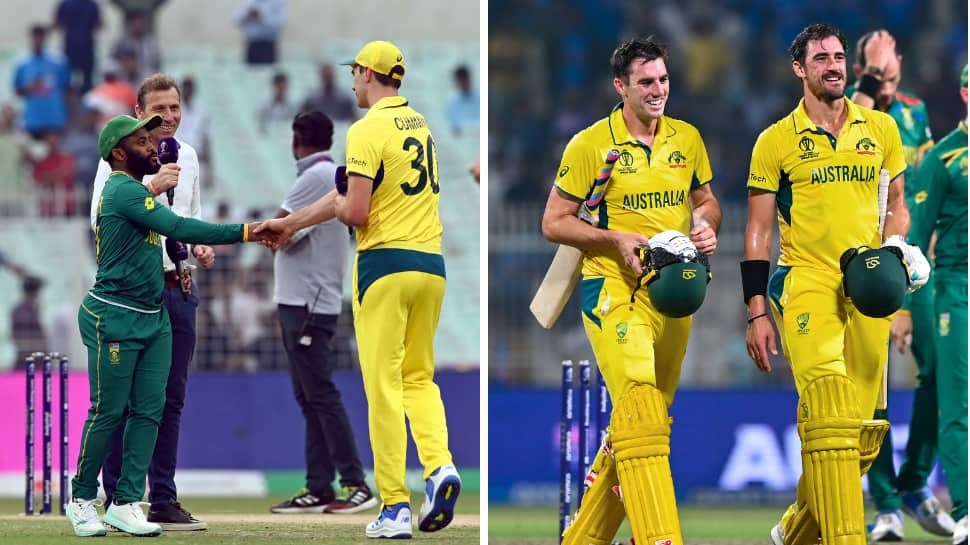 Fans were not impressed with Temba Bavuma's captaincy and his performance in the 2023 World Cup campaign for South Africa. In the semifinal against Australia, a number of field calls were questioned by commentators and pundits given the intensity of that game, it was a margin of very small errors and chances for both teams. South Africa were uncharacteristically poor in the field and the placement of the fielders was questionable when they got Australia in a corner in the middle over phase of their chase.

While some questioned his captaincy decisions, other questioned his fitness and form to play the semifinal against Australia. Bavuma's availability was tentative for the important clash against Australia and his form in the World Cup was far away from even being called average. (Cricket World Cup 2023: Team India Lands In Ahmedabad To Play Final Vs Australia On November 19; Watch)
Checkout the reactions here:

Bavuma must voluntarily step down as the South African cricket captain and focus on his game.

The armband is too heavy for him and it will eventually cost him his career.  #ProteasFire
— The Lord Of The Wings( Lisa) Arsenal Biggest Fan (@WhyUfikelate) November 16, 2023
This is the only contribution Bavuma made in the whole yet a another world Cup,This is the second world cup SA lost under his Captaincy,1St T/20 World Cup nd Now odi world cup.He could not score there in T/20 WC aswell.Still CSA persisted with him,Shocking https://t.co/HSkIlLyGxW
— Vikrant Thakur (@Vikrant57830287) November 16, 2023
Temba Bavuma Performance in ICC Cricket World Cup 2023

Sri Lanka: 8 Run

Australia: 35 Run

Netherlands: 16 Run

Pakistan: 28 Run

Newzealand: 24 Run

India: 11 Run

Afghanistan: 23 Run

Australia: 0 Run

Total Matchs Played: 8

Total Runs: 145#AUSvsSA #SouthAfrica pic.twitter.com/6mHfW1T8OR
— Jayesh Matiyal (@jayeshmatiyal) November 16, 2023
temba bavuma is actually so bad. I feel bad for SA
— WiltCurry (@WiltCurry43) November 16, 2023
Bavuma with rest of the SA team  pic.twitter.com/7jsawyyry2


— Jiten Parmar (@jitenkparmar) November 16, 2023
How important in SA cricket system to keep Bavuma in the side? Whats the rule, please explain.

Bavuma, on the toss accepted himself that he is not fully fit. And considering the fact that a brilliant alternative was on the bench but they still played Bavuma.
— Soulat Ali (@SAli2385) November 16, 2023
"Cannot put it into words, first of all congratulations to Australia. Good luck to them in the final. They played really well today. Our character came through today. We showed a lot of resilience. The way we started with the bat and the ball was the telling point, that's where we lost the game. The conditions combined with the quality of their attack, they really put us under pressure. You're always going to struggle to put up a competitive total when you're 24/4. We were gaining some momentum when Miller and Klaasen were out there but unfortunately he (Klaasen) couldn't carry on a bit longer," said Temba Bavuma on the heartbreaking loss. (Meet Top Wives And Girlfriends Of South Africa Cricketers – In Pics)

"Miller's innings was superb, really highlights the character of the entire team, it was extraordinary to do that in such a pressure situation and in a World Cup semi-final. They got 70-odd in the first 10 and that really allowed the rest of the guys to settle. Markram and Maharaj were fantastic and they really put them under pressure. We had chances, tough chances that we put down, it could've been a bit close had we held on to them. As a young guy, he (Coetzee) really was the warrior for us, there wasn't much happening for the seamers then but for him to come round the wicket and to take the wicket of Smith was incredible. He was cramping but he still wanted to keep bowling," he added.

Speaking on Quinton de Kock, who announced that the 2023 World Cup will be his last World Cup in the 50-over format, Bavuma said, "Quinton would've probably wanted to end his career on a different note, despite the result I think he'll remember his time. He'll go down as one of the legends in South African cricket."
Surely, De Kock left nothing in the tank as he scored a century in almost every game he got going. His career's ODI chapter comes to an end, and it's been an incredible journey. With 155 matches, 6770 runs at an average of 45.74, and 21 hundreds, he will go down as one of the best performers in ODI cricket history, not just for South Africa. Though it may not have been the perfect conclusion, he can still go with a sense of satisfaction because it has been an incredible career.