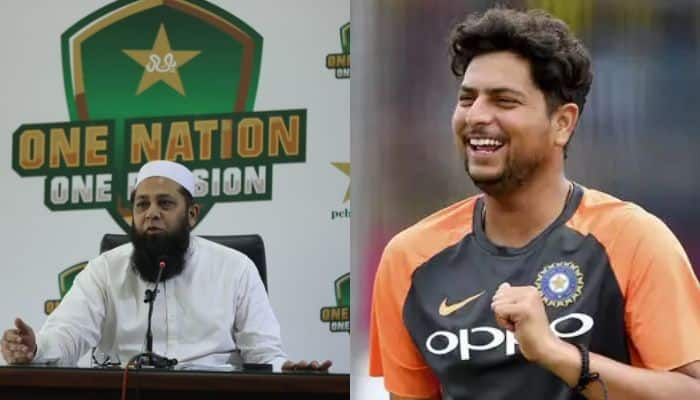 Former Pakistan captain and current chief selector, Inzamam-ul-Haq, is no stranger to the spotlight. His recent cheeky one-liner response to a question about the comparison between Indian spinners like Kuldeep Yadav and the Pakistani duo of Shadab Khan and Mohammad Nawaz has grabbed headlines and sparked debates.

Highlights from Inzamam-ul-Haq's press conference at Gaddafi Stadium today.

Full video __ https://t.co/004SgGfO2G#WeHaveWeWill | #CWC23 pic.twitter.com/x8jHpIEx3D
— Pakistan Cricket (@TheRealPCB) September 22, 2023
Growing Concerns Over Pakistan's Spin Bowling

In recent times, Pakistan's spinners have been under scrutiny for their inability to take wickets in the middle overs. This concern has led to comparisons with their Indian counterparts, particularly Kuldeep Yadav, known for his ability to pick crucial wickets. However, Inzamam-ul-Haq was quick to defend his spinners.

Pakistan's Spin Options

Inzamam-ul-Haq emphasized that comparing Pakistani spinners to Kuldeep Yadav or any other spinner is not fair, as Pakistan is working with the resources they have. Addressing the media after announcing Pakistan's World Cup squad, he stated, "The first problem is I cannot select Kuldeep Yadav. He plays for another team. With Shadab and Nawaz, I have tried to keep continuity. You are right that their performances of late haven't been to that level, and we will hope that they deliver, else we do have the option of Usama Mir."

Mohammad Amir's Potential Comeback

Another topic that came up during the press conference was the potential comeback of former Pakistani speedster Mohammad Amir. Inzamam-ul-Haq responded to this with a balanced view, saying, "Amir is a good bowler, everyone knows that. He took retirement from international cricket. If he wishes to play for Pakistan, he should come and play first-class cricket here, give performance, and then will be considered. As said before, the doors aren't closed on anyone here."

The Future of Pakistan's Bowling
With the inclusion of Hasan Ali as Naseem Shah's replacement, the spotlight is on Pakistan's bowling unit. Only time will tell whether this decision pays off for the team. Hasan Ali's experience and recent form could prove to be an asset in the upcoming World Cup.

Pakistan's World Cup Squad

Inzamam-ul-Haq's decisions are reflected in Pakistan's 2023 World Cup squad. The team will be led by Babar Azam, with Shadab Khan as the vice-captain. The squad includes promising talents like Saud Shakeel and Iftikhar Ahmed, as well as experienced players like Mohammad Rizwan and Shaheen Shah Afridi. The presence of Usama Mir as a spin option shows Inzamam's trust in his selected spinners while keeping an alternative option in mind.

Travelling Reserves
The travelling reserves for the World Cup consisted of Abrar Ahmed, Zaman Khan, and Mohammad Haris. These players will be ready to step in if any unexpected circumstances arise during the tournament.

Inzamam-ul-Haq's witty response to the Kuldeep Yadav comparison sheds light on his confidence in the spinners he has chosen for Pakistan's World Cup campaign. The tournament will reveal whether his selections and strategies pay off as Pakistan aims for cricketing glory in the 2023 World Cup.