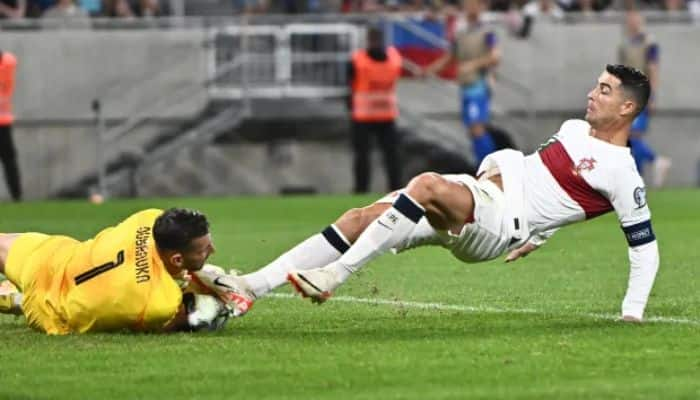 Cristiano Ronaldo, the prolific goal-scoring machine, is set to miss Portugal's crucial Euro 2024 qualifier against Luxembourg, adding a twist to the national team's preparations. Ronaldo's absence follows his yellow card booking during Portugal's hard-fought 1-0 victory over Slovakia, which now forces him to serve a suspension in the upcoming game. While Ronaldo was somewhat fortunate to escape a red card after an incident with goalkeeper Martin Dubravka, it was his third yellow card in the European Championship qualifying campaign, triggering the suspension.

_ Arbitration Department of the Saudi Football Federation decided that Cristiano Ronaldo's goal against Al Shabab was wrongfully disallowed.

But we already knew that _pic.twitter.com/FT97SuGSIc
— aurora (@cr7stianos) September 9, 2023
Ronaldo's International Dominance

Even at the age of 38, Cristiano Ronaldo continues to dominate international football, often drawing comparisons with his long-time rival, Lionel Messi. Ronaldo's remarkable career has been characterized by incredible consistency and a relentless pursuit of excellence. Together with Messi, he has created one of the most iconic rivalries in the history of European football.

The End of an Era

As Ronaldo reflects on his illustrious career, he believes that the time has come for the long-standing rivalry with Messi to conclude. The Portuguese forward recently opened up about his relationship with Messi and the profound impact they have had on the world of football. Their rivalry spanned over a decade, leaving an indelible mark on the sport. Ronaldo acknowledged their shared history, emphasizing that both players have changed the course of football history.
Mutual Respect

Ronaldo's words carry a message of respect and admiration for Messi, urging their fans not to harbor animosity between the two football legends. He emphasized that appreciating one player should not entail disparaging the other. The rivalry, in Ronaldo's view, has been a source of mutual growth and motivation. While he did not go as far as calling Messi a friend, he underscored the deep respect they hold for each other.

A Decade of Spanish Dominance

Their rivalry reached its peak during their respective tenures in Spain, with Ronaldo representing Real Madrid and Messi donning the iconic Barcelona colors. Together, they propelled their clubs to numerous titles, including La Liga, UEFA Champions League, Copa Del Rey, and FIFA Club World Cup victories. Remarkably, their individual goal-scoring prowess often carried their teams to victory.
New Horizons

In the year 2023, both Ronaldo and Messi embarked on new adventures, leaving behind the familiar European football landscape. Ronaldo chose to continue his career at Al Nassr in Saudi Arabia, while Messi signed with Major League Soccer (MLS) club Inter Miami in the United States. Both players have not only adapted but excelled in their new surroundings, with Ronaldo clinching the Arab Club Champions Cup and Messi leading his team to their first-ever title, the Leagues Cup 2023.