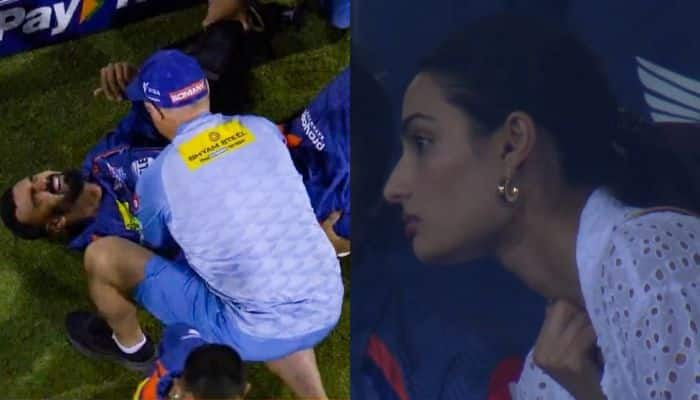 During a match against the Royal Challengers Bangalore, Lucknow Super Giants skipper KL Rahul suffered a leg injury while chasing a ball to the third-man fence. Despite being seen holding his right thigh in visible pain, Rahul opted to walk off the field with the help of physios, rather than using a stretcher.

Krunal Pandya took over the captaincy duties for the team. This injury is a setback for LSG as Rahul is their second-highest scorer in IPL 2023 with 274 runs, although his low strike rate of 114 has been criticized.
Athiya Shetty is talking to someone on call. Hope the KL Rahul's injury isn't too serious! pic.twitter.com/OAvK0MlNXh
— Juman Sarma (@cool_rahulfan) May 1, 2023
Not a picture that any cricketing fan would want to see. Hope the injury is not severe and KL Rahul comes to bat for Lucknow Super Giants. #RCBvsLSG #LSGvsRCB pic.twitter.com/RqslcbRzPo
— Vikram Rajput (@iVikramRajput) May 1, 2023
pic.twitter.com/qco5KYHui6
— Sanju Here __ (@me_sanjureddy) May 1, 2023
Wishing a speedy recovery to @klrahul

See you back on the field soon ____#TATAIPL | #LSGvRCB pic.twitter.com/2DPo7W2OuK
— IndianPremierLeague (@IPL) May 1, 2023
KL Rahul in lots of pain.

He is walking off the pitch. pic.twitter.com/LBuPVsfKCg


— Johns. (@CricCrazyJohns) May 1, 2023
LSG skipper KL Rahul walks off the field after an injury. Hope it's not serious_

Wishing @klrahul a speedy recovery.

_: Jio Cinema pic.twitter.com/8RhtQZ0g9L
— CricTracker (@Cricketracker) May 1, 2023
People are trolling KL even after got injured, unreal hate for him yaar. Before trolling someone like KL Rahul, let me remind you one thing – you're just sitting at home, doing nothing and misusing social media for trolling but he is representing the nation! ____ pic.twitter.com/mysQaYJpQr
— Juman Sarma (@cool_rahulfan) May 1, 2023
Wishing K L Rahul sir a speedy recovery. _#KLRahul #RCBVSLSG pic.twitter.com/MMqvZREjaT
— _______ (@OxygenRSY) May 1, 2023
Why God Why. _

Wishing you a speedy recovery, Champ KL Rahul . __ We're waiting for you. #LSGvsRCB pic.twitter.com/4NeGS2l3uX


— Kunal Yadav (@kunaalyaadav) May 1, 2023
In addition, the broadcaster confirmed that left-arm pacer Jaydev Unadkat, also part of India's World Test Championship final squad, suffered an injury on the same day. The injury could impact their performance in the upcoming match against Australia, which is scheduled to begin on June 7 at the Oval in London.

More to follow…