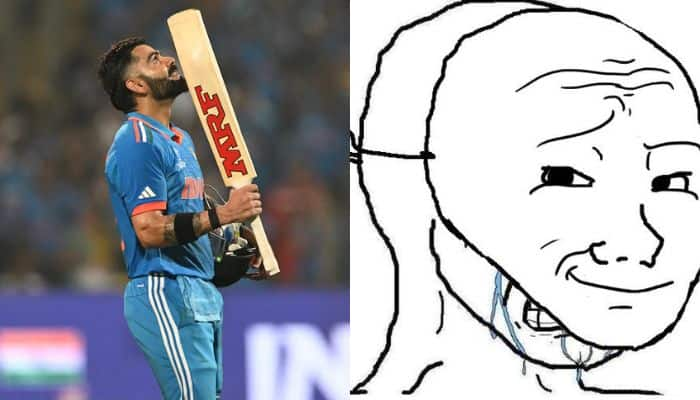 Despite a thrilling victory for India against New Zealand in the ICC Men's World Cup on October 22, 2023, the headlines are dominated by the near-miss of history as Virat Kohli narrowly missed his 49th ODI century, leaving fans and cricket legends in awe. India's enthralling journey in the ongoing ICC Men's World Cup continued as they clinched a 4-wicket victory against New Zealand. With this triumph, India sits atop the points table, having won all five of its matches. However, the spotlight shifted from the team's performance to Virat Kohli's tantalizing innings. Kohli was just five runs away from his 49th ODI century when he fell prey to Matt Henry's delivery, leaving Indian fans yearning for a historic milestone.

THE KING _ AND THE HITMAN !!______

This frame has all my heart after this historic win against NZ after 20 years>>>

Rt~_____#INDvsNZ #WorldCup2023 #ViratKohli_ #RohitSharma_ #century #chasemaster #jaddu #jadeja #MSDhoni_

pic.twitter.com/35f1GZY9z9
— sahil (@sahilsh02980234) October 22, 2023
20 ___ ___._

One of the greatest batter of all time. #ViratKohli_ pic.twitter.com/BqshVKmAO8
— Sushanta Sahu__ (@ImSushanta11) October 22, 2023
Goat Virat Kohli

Sher akela kafi hota hai.

_#INDvsNZ #hotstar #GOAT_ #ViratKohli_ #KingKohli #RohitSharma #ViratKohli #chokli #jaddu #jadeja pic.twitter.com/w8m8PuQg1R
— khanzaadi (@HUMAKHANNNNNN) October 22, 2023
Chase master king kohli

Not hit century but totally nailed today's match by amazing batting and shami nailed match by amazing bowling #ViratKohli #INDvsNZ #CricketWorldCup #India #Congratulations #Shami pic.twitter.com/GKm3zilpb0
— Ruchika_2005 (@Ruchikaa3328) October 22, 2023
_____ ______ ____ __ __ __ __ ____

__________ __ ____ __ __ ____ ___ __ ___ ___ ______ __ __ ___ __ ____ ___ ___________#INDvsNZ #ViratKohli_ #ICCCricketWorldCup #CWC2023@BCCI pic.twitter.com/gjXzVP87jr
— Ganesh Shankar Mishra, IAS Retd. (@gsmishraCG) October 22, 2023
Chase Master _ #ViratKohli_ pic.twitter.com/dciqZK5f4J
— Mahesh Bhavsar (@imaheshbhavsar) October 22, 2023
If the phrase "one man army" had a face #ViratKohli_ #INDvsNZ #CricketWorldCup2023 pic.twitter.com/KovBnmWZiT
— Prakhar (@prakhar441) October 22, 2023
#WATCH : Somtime's 95 's are greater than 100#INDvsNZ #GOAT_ #ViratKohli_ #ViratKohli #NZvsIND #NZvIND #latestnews #BREAKING pic.twitter.com/DJUDtxYv1t
— upuknews (@upuknews1) October 22, 2023
95 was much more beneficial than a Century!!! ___#ViratKohli_ #GOAT_ #INDvsNZ #INDvNZ pic.twitter.com/cyt5coUdM4
— Kartikey Tiwari (@XKartikeyTiwari) October 22, 2023
Netizens React: Cricket Legends and Fans Chime In
The social media sphere erupted with reactions as cricketing legends and fans poured in their thoughts about Kohli's magnificent performance. Virendra Sehwag commended India's win and Shami's spell but didn't forget to hail Kohli's contribution to the team's success. VVS Laxman and Suresh Raina also took to social media to laud Kohli's remarkable innings, with Raina describing him as a "legend."

One Fan emphasized Kohli's match-winning innings but hinted at the regret of not completing the century, predicting that Kohli would never make this mistake again. Meanwhile, an emotional fan's post proclaimed, "Some 95s are bigger than 100s, proud of you Kohli."
Kohli's fall left the crowd in a state of disbelief, but the hero of the moment, Ravindra Jadeja, brought them back to life by securing the win. With a boundary in the dying moments, Jadeja sealed the victory and maintained India's perfect record in the tournament.

The Journey to Victory: India's Bowlers Shine
In the match, New Zealand set a target of 274, thanks to Daryl Mitchell's exceptional century and Rachin Ravindra's brilliant 75. India's bowlers, notably Mohammed Shami, took center stage, with Shami's five-wicket haul dismantling the New Zealand batting lineup. India's chase was anchored by Virat Kohli's 95, Rohit Sharma's impressive 46, and Ravindra Jadeja's unbeaten 39. Their collective efforts ensured that India secured a thrilling victory by 4 wickets.

The Chasing Drama: Kohli's Near Century
As the chase unfolded, Rohit Sharma and Shubman Gill provided a blazing start. Rohit's remarkable form against New Zealand's in-form opening bowlers was evident. Kohli, who had already been in stunning form, continued to showcase his class as he led the team closer to victory.

In a topsy-turvy encounter, Kohli approached his century, leaving fans on the edge of their seats. The chance to go for his century presented itself, but a missed single, followed by a skied catch, left Kohli at 95.
The atmosphere in the stadium was electric, and Kohli's near miss momentarily sucked the air out of the crowd. However, Jadeja's boundary revived the jubilant atmosphere, sealing India's fifth consecutive win.

The Tale of India's Bowling Prowess
Earlier in the day, India's fast bowlers, led by Mohammed Shami, asserted their dominance. While New Zealand's top order appeared threatening, India struck back during the Powerplay. Shami, playing his first game in the tournament, claimed a five-wicket haul, dismantling the New Zealand innings and providing a strong foundation for India's chase.