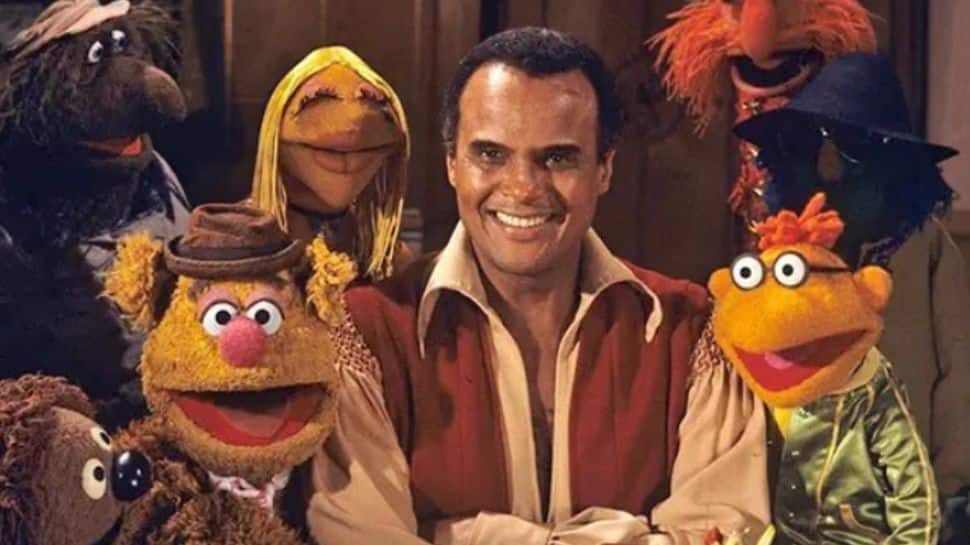 Washington: Harry Belafonte, a singer, actor and activist who popularised calypso music in the United States and paved the way for African-American entertainers, passed away at his Manhattan home. According to Variety report, a US-based media house, quoted New York Times that Harry Belafonte who was 96-year-old passed away at his Manhattan home. New York Times reported, he died on Tuesday due to congestive heart failure revealed Ken Sunshine, his longtime spokesman.  

The lithe, dapper Belafonte was a celebrated Broadway actor as well as a versatile recording and concert star of the 1950s. He was one of the first black leading men in Hollywood. Later, he expanded into producing theatre and television movies. His dedication to social problems persisted as his career continued into the new millennium without ever taking a back seat on his professional front. 
He was a close friend of Dr. Martin Luther King Jr., a key figure in the civil rights movement of the 1960s, and he later got involved in philanthropic work on behalf of poor African countries. He was a vocal opponent of apartheid in South Africa. Belafonte was set to receive the Motion Picture Academy`s Jean Hersholt Humanitarian Award at the Governors Awards ceremony in November 2014. Belafonte received numerous awards over his career, including two Grammys, a Tony, an Emmy, and the Recording Academy`s Lifetime Achievement Award in 2000. 

Harold George Belafonte Jr. was born in New York but went to live with his grandmother in Jamaica when he was five years old. He later returned to New York to finish high school. However, the native calypso and mento of Jamaica would provide essential songs for his early musical catalogue.Variety report quoted, after serving in the military, Belafonte shifted his focus to the New York theatre scene. The renowned black performer, actor, and activist Paul Robeson served as a mentor in his early career.  
Erwin Piscator was his acting teacher, and he went to Broadway performances with Sidney Poitier, a fellow struggling young actor, with a single ticket he would pass off at interval. He also appeared in the American Negro Theatre in Harlem, like Poitier. However, he originally became well-known as a nightclub performer. Belafonte began his singing career at New York`s Royal Roost and made his recording debut in 1949 on Roost Records, first focusing on pop and jazz. His passion in American folk music quickly grew. 

In the revue "John Murray Anderson`s Almanack," where he made his Rialto stage debut, Belafonte won the Tony Award for best performance by a featured actor in a musical. Interestingly, LeVern Hutcherson`s operatic voice was dubbed for Belafonte`s singing in Otto Preminger`s 1954 musical `Carmen Jones,` which was based on Oscar Hammerstein II`s Broadway production of Bizet`s opera `Carmen.` Belafonte soon become a household name as a pop artist in his own right. 

In 1954, he released "Mark Twain and Other Folk Favorites" on RCA Records. In his Tony Award-winning Broadway performance, he and his guitarist Millard Thomas sang the folk tune that served as the album`s title track. Similar folk music was featured on the 1956 album "Belafonte," which spent six weeks at No. 1. Those volumes served just as an introduction to "Calypso." The 1956 album, one of the four longest-lasting chart-toppers in history, started a calypso frenzy that spread across the country and spent an astounding 31 weeks at No. 1. It gave birth to "Banana Boat Song (Day-O)," Belafonte`s hallmark hit, which led the singles chart for five weeks.  

In 1957, a spoof of that well-known song by Stan Freberg peaked at number 25. The song was effectively used by director Tim Burton in the 1988 comedy "Beetlejuice." The end-of-the-world drama "The World, the Flesh, and the Devil" (1959) and the heist movie "Odds Against Tomorrow" (1960), both of which Belafonte starred in, marked his entry into the realm of film production. He would stay away from the big screen for the rest of the 1960s due to his dissatisfaction with the roles he was being offered, and instead occupied himself with recording and worldwide tours as his commitment in the civil rights movement grew, as per Variety reports. 
In 1970, Belafonte made a comeback in the imaginative "The Angel Levine," costarring Zero Mostel. In the comedies `Buck and the Preacher` (1972) and `Uptown Saturday Night` (1974), both of which Poitier directed, he co-starred with his old friend, Sidney Poitier. For the rest of his acting career, his appearances would be sporadic. Notable roles include those alongside John Travolta in "White Man`s Burden" (1995), an alternate universe fantasy-drama about racism, "Kansas City" (1996), and "Bobby" (2006), Emilio Estevez`s portrayal of Sen. Robert Kennedy`s 1968 murder. 

Belafonte spent the early and late years of his childhood in Harlem, but the crucial middle years in Jamaica. He was the son of a Jamaican housekeeper and a Martiniquan chef. In 1944, he joined the Navy, and it was while serving there that he came across the writings of W.E.B. DuBois, a co-founder of the NAACP and a major influence. He is survived by his third wife, Pamela; daughters- Shari, Adrienne, Gina, and son David.