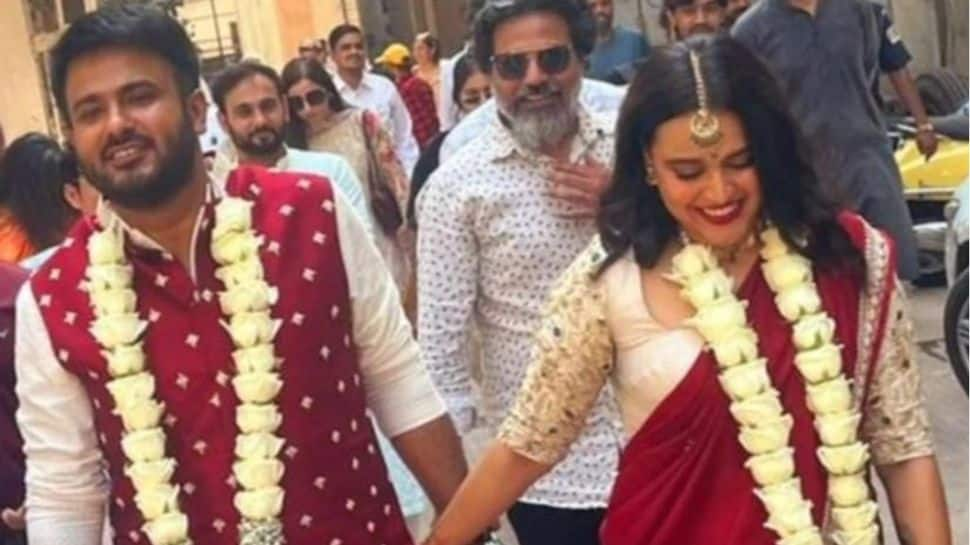 New Delhi: Actor Swara Bhasker took to social media and announced her wedding with political activist Fahad Ahmad. The actress shared a video with a montage of all their adorable moments while announcing that they have tied the knot. Both Swara and Fahad, who is a Samajwadi Party leader, took the internet by storm when they shared the video on their respective social media handles to announce the news. The actor shared that they registered their wedding in court on January 6, 2023, under the Special Marriage Act.
Swara captioned the video and wrote, "Sometimes you search far & wide for something that was right next to you all along. We were looking for love, but we found friendship first. And then we found each other! Welcome to my heart @FahadZirarAhmad It's chaotic but it's yours! (sic)"



For those unaware, Fahad is the Maharashtra Unit President of the Samajwadi Party youth wing, as per his Twitter handle bio. 
In response to Swara's heartfelt caption, Fahad wrote on Twitter, "I never knew chaos can be so beautiful. Thank you for holding my hand love @ReallySwara."

In terms of work, Swara will next be seen in 'Mrs Falani'. As per reports, Swara will be 9 different stories that will be showcased in the film. The actor will be seen playing 9 different characters in the movie. This is the first time that she will be playing so many characters in a film.