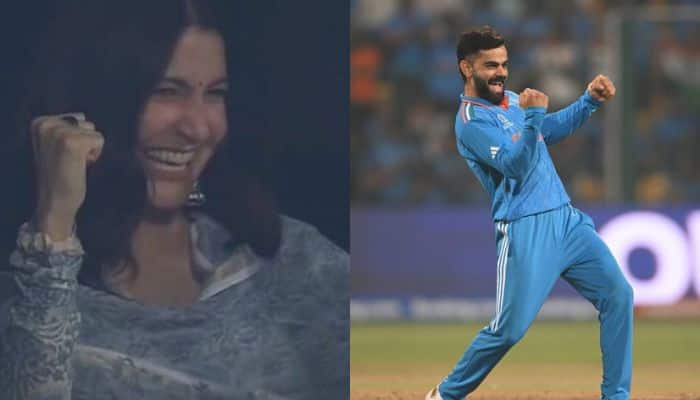 In a historic moment at the M.Chinnaswamy Stadium, Bengaluru, Virat Kohli, showcased his prowess not with the bat but with the ball, celebrating his first international wicket in nine years. The match against the Netherlands in the ICC Cricket World Cup 2023 turned into a memorable occasion for Kohli and his fans.
Wicket for Virat Kohli in World Cup 2023 at Chinnaswamy…__#INDvNED #INDvsNED #IndiaVsNetherlands #RohitSharma #ShreyasIyer #KLRahul #ViratKohli #anushkasharma #ODIWorldCup #CWC23 | Wicket | Gill | RCB RCB | Anushka | Scott Edwards | S. Gangulypic.twitter.com/GAbGDTSxgC
— Shailendra Singh (@ShailendraS97) November 12, 2023
Kohli's Crucial Wicket – Scott Edwards Departs
The moment that stole the spotlight occurred when Kohli, surprisingly taking the ball, bowled to Scott Edwards. Though not the most remarkable delivery, it proved effective as Edwards, attempting a glance, was caught behind by Rahul. The stadium erupted in cheers as Kohli celebrated, proving once again that he possesses the Midas touch on the cricket field.

Anushka Sharma's Joyous Laughter
What made the moment even more special was the presence of Virat Kohli's wife, Anushka Sharma, in the stands. As Kohli punched the air in joy, Anushka couldn't control her laughter, adding a touch of emotion to the celebration. The heartwarming video of the power couple's candid moment quickly went viral on social media, capturing the hearts of cricket enthusiasts worldwide.

Kohli's Impact Beyond Batting
While Virat Kohli is renowned for his exceptional batting skills, his rare appearance with the ball showcased his versatility as a cricketer. The celebration of his wicket emphasized the passion and joy Kohli brings to the game, transcending his role as a captain and batsman.
India's Stellar Performance
The match, however, wasn't just about Kohli's moment; it was also about India's dominance on the field. The Indian batting lineup, led by Rohit Sharma, Shubman Gill, and KL Rahul, posted a formidable total of 410 runs. The bowlers, backed by Kohli's wicket, successfully restricted the Netherlands to 136-4.

In the realm of cricket, statistics often define greatness, but it's moments like these that etch a player's legacy in the hearts of fans. Virat Kohli's celebration, coupled with Anushka Sharma's laughter, transcended the boundaries of the game, creating a narrative that goes beyond runs and wickets. As the ICC Cricket World Cup 2023 unfolds, cricket enthusiasts eagerly anticipate more magical moments from the charismatic Virat Kohli, a player who continues to redefine the game in his unique way. Stay tuned for the next chapter in Kohli's extraordinary cricketing journey.