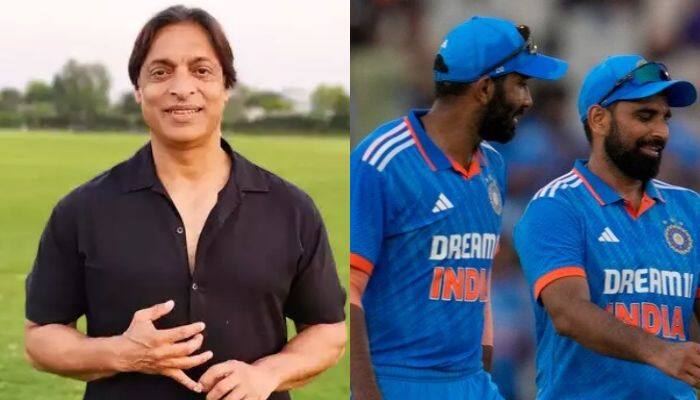 Ahead of the high-stakes semifinal clash between India and New Zealand in the ICC Men's ODI World Cup 2023, former Pakistani cricketer Shoaib Akhtar weighed in on the pivotal players. Despite being a bowler, Akhtar left batting aside and unequivocally picked Jasprit Bumrah as Team India's X-factor. In his analysis, Akhtar emphasized that Bumrah's exceptional skills have been instrumental in India's successful campaign. He highlighted Bumrah's incredible bowling in the powerplay, averaging 2-3, and commended his fitness, dispelling initial doubts about his ability to play all nine games.

Who is Team India's X Factor?
"Leaving batting aside, as I am a bowler I will always pick Jasprit Bumrah. If he had not shown the level of skills he has then I think Mohammed Shami and Mohammad Siraj would have struggled. But the way Bumrah has bowled in this World Cup he has told the world that Yes Team India's batting is strong but our bowling will tell you that you win the World Cup with your bowling. The 10 wickets that bowlers take are the most important thing in the World Cup. So I think Jasprit Bumrah is the x-factor for Team India. He is bowling at an average of 2-3 in powerplay. It is unbelievable," Akhtar said on Jasprit Bumrah.
"Coming to the fitness part of the bowler, I had major doubts about whether he would be able to bowl 10 overs, whether would he play all 9 games, and he stay fit in the World Cup but he proved us all wrong. He towed India's bowling lineup towards success," former Pakistan pacer said on Jasprit's fitness

Riding high on an impeccable all-win record in the preliminary stage, Team India, led by Rohit Sharma, has been a dominant force in the World Cup. The top-order batsmen, including Virat Kohli, Rohit Sharma, Shreyas Iyer, and KL Rahul, have displayed exceptional form, collectively amassing centuries. Kohli's stellar performance, with 594 runs, makes him the tournament's leading scorer.

No Upset Please
Despite India's cricketing prowess, Shoaib Akhtar urges caution, emphasizing the need to guard against upsets in the semifinal against New Zealand. He acknowledges India's extraordinary cricket throughout the tournament but remains cautious about potential surprises in the knockout stage, "I think India has played extraordinary cricket throughout the Cricket World Cup 2023 and deserves to win the trophy but we must not witness an upset now. I hope not to see an upset in India vs New Zealand Semifinal 1."

In the bowling department, Jasprit Bumrah's 17 wickets have spearheaded India's attack, with notable contributions from Mohammad Shami, Ravindra Jadeja, Kuldeep Yadav, and Mohammad Siraj. Their collective effort has ensured India's smooth journey to the knockout stage.
New Zealand's Rollercoaster Ride
New Zealand's journey in the World Cup 2023 has been a rollercoaster, marked by early successes and subsequent setbacks. After winning their first four matches, they faced challenges, including a defeat to India at Dharamsala. Injuries to key players like Kane Williamson and Tim Southee have posed challenges, but opener Rachin Ravindra emerged as a standout performer.

Key Player Match-ups and Venue
The clash is set to unfold at the historic Wankhede Stadium, a venue with a rich history in Indian cricket. The pitch is expected to provide early pace and bounce, favouring both teams' formidable pace attacks. With India's impressive record at Wankhede, fans are hopeful that history will repeat itself, echoing the glory of the 2011 World Cup final.
Source link