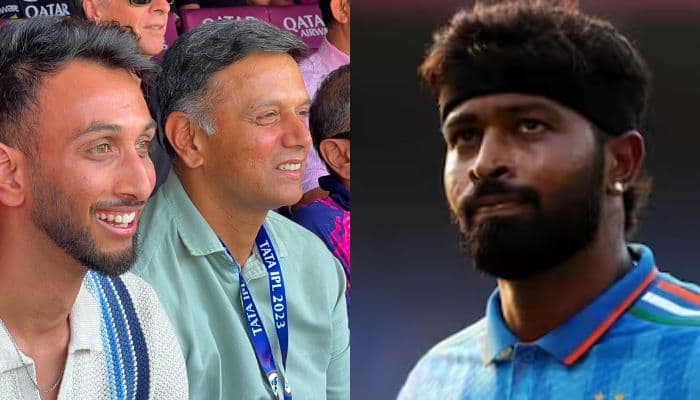 On the eve of India's highly anticipated ICC World Cup clash against South Africa in Kolkata, head coach Rahul Dravid provided insight into the team's decision to replace Hardik Pandya with seamer Prasidh Krishna. The unexpected ankle injury that befell Pandya, occurring just three deliveries into his first over in the match against Bangladesh, necessitated this crucial change.

Rahul Dravid said, "yes, we don't have the 6th bowling option, but we have a wrong-footed inswinger menace whom we can back for a few overs. He was close to bowl in the last game with the crowd pushing him". pic.twitter.com/hxxsp3etZq


— Mufaddal Vohra (@mufaddal_vohra) November 4, 2023
"After Hardik has been injured, we have played with three quicks. In reserves, we had backup for spin and all-rounder but needed a backup for a fast bowler," Dravid explained. This decision underscores the team's commitment to maintaining a well-rounded and adaptable squad even in the face of adversity.

While acknowledging the absence of a sixth bowling option, Dravid looked to unconventional sources for support, saying, "Yes, we will not be in a position to have a sixth bowling option. But we have a wrong-footed inswinging bowler, who can bowl a few overs. In fact, we were close to giving him (Kohli) an over last game. Crowd wanted that too. Surya can bowl, so can Rohit," Dravid added.

Furthermore, Dravid put the spotlight on Virat Kohli, emphasizing that the Indian captain remains focused on the game and not distracted by personal milestones. "Virat Kohli is certainly not thinking about No 49 or No 50. Very relaxed and certainly not thinking about birthday and turning an year older," Dravid told reporters in a pre-match press conference in Kolkata.

With India and South Africa proving to be two of the most consistent teams in the World Cup, their forthcoming clash at Kolkata's iconic Eden Gardens promises to be a deciding factor in determining the table topper at the end of the league stage.
As India faces the challenges of adapting to Hardik Pandya's absence, the team's resilience and versatility come to the fore. The inclusion of Prasidh Krishna as a fast-bowling backup showcases the depth of the Indian squad, and the potential contributions from unconventional sources indicate their readiness to embrace change.

All eyes are on this pivotal match, not only for the thrilling on-field action but also for the anticipation surrounding Virat Kohli's century milestone. The World Cup's destiny hangs in the balance as India prepares to square off against South Africa in a battle that will undoubtedly captivate the cricketing world.